---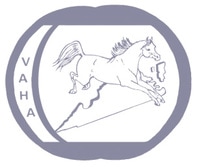 VIRGINIA ARABIAN HORSE ASSOCIATIONDISTRICT 6 2018 OPEN HORSE SHOWSTO BE HELD AT THE AIRFIELD 4‑H CENTER
SUNDAY APRIL 22 SUNDAY JUNE17 SUNDAY JULY 29SUNDAY SEPTEMBER 9 SUNDAY NOVEMBER 4
FOR MORE INFORMATION:
Manager - Kathryn Putnam ‑
KathyVAHA@gmail.com
, 757-487‑4870
Assistant Manager - Cecil Flora - 757-803-3446
Barn Manager - Katharine Owens –
Kathapine1977@yahoo.com
, 757-356-9703
THESE ARE "RIDE THROUGH THE GATE" SHOWS
(See information under General Rules)
ENTRIES: $8.00 PER CLASS, $10.00 PER CHAMPIONSHIP CLASS
SIX RIBBONS PER CLASS/TROPHIES TO CHAMPIONS
RIBBONS FOR ALL FIVE SHOWS WERE GENEROUSLY SPONSORED BY JAMES & MARY DAHLING, J&M ARABIANS, CARROLLTON, VA
STALLS:
$30.00 ‑ HORSE STALLS W/
NO
BEDDING & TACK STALLS
GROUNDS:
$3.00 - OUT OF TRAILER FEE PER HORSE
SHAVINGS:
Make arrangements with Wakefield
FOR THOSE WHO NEED ROOM RESERVATIONS OR CAMPER SPACES, OR THOSE WHO NEED ELECTRICAL HOOK-UP OR SHAVINGS,MAKE ARRANGEMENTS WITH STEPHANIE PATTERSON AT THE WAKEFIELD CENTER, 757-899-4901.
Additional copies of the Show Program and Entry Form, as well as our
Awards Info & forms are available below.
DIRECTIONS from Rt 460:
East bound traffic, turn right at the light on to Rt 628. West bound traffic, turn left at the light on to Rt 628.
Go 4 ½ miles and turn right on to Rt 729. Entrance to Airfield
is ¼ mile on the left. Make sure you bring a copy of Coggins if not already on file.
MANY THANKS TO THE NUMEROUS VOLUNTEERS FOR HELPING MAKE THESE SHOWS POSSIBLE. WE COULDN'T DO IT WITHOUT YOU!
---
---